$2,000 Stud Fee (Fresh Cooled Semen)
Live Foal Guarantee

Frozen Semen Available Upon Request-EVA Negative 2016
New breeders: Request a contract or more information

HOLIDAY BLACKOUT DATES: NO COLLECTIONS WILL TAKE PLACE JULY 4
Current breeders:Download PDF Semen Request Form

Offspring
Pedigree
Sandro
(Holst)
Sacramento Song xx
Sicambre FR xx
Prince Bio xx
Sif xx
Easter Gala xx
Sayajirao xx
Easter Day xx
Duerte (Holst)
Wahnfried
Waldenser xx
Seglerin
Velour
Duhnen
Falkenspitze
Calwiene
(Hann)
Caletto I (Holst)
Cor de la Bryere
Rantzau xx
Quenotte
Deka
Consul
Uekonomie
Wiener Blut (Hann)
Wienerwald
Wilderhall
Alsterschoene
Platina
Pik As xx
Diana
Origins
Sir Caletto's pedigree includes the direct combination of two successful international show jumping stallions, sire Sandro and dam's sire Caletto I. Both stallions join the elite lineup of Holsteiner stallions considered worthy of being accepted and even welcomed into the Hanoverian breeding registry.
Sandro daughters, after mare performance testing, show tremendous aptitude for jumping with indexes of 162/showjumping, 153/technique and 161/scope. Sandro progeny have won over 650,000 DM in competition with 553 actively competitive successful sons and daughters. Caletto I daughters are equally impressive with indexes of 144/show jumping, 147/technique and 138/scope with a rideability index of 127. These statistics are according to Dr. Ludwig Christmann of the German Hanoverian Verband in its annual breed value book.

Sir Caletto will be of interest to breeders who are excited by the real potential for developing jumping stock with a high degree of rideability as well as a beautiful type that will be a complementary cross for Hanoverian, Oldenburg, Swedish Warmblood and Thoroughbred Mares.

The Hanoverian pedigree from the dam's side is a power pack of performance talent: Wienerwald produced numerous top show jumpers for the highest of demands including Wieland, Winzer, Wiener Domspatz and WeiBe Dame. The great grand dam Diana (together with Pik As xx) gave birth to the top competition horses Galipolis (Gerd Wiltfang), Golden Gate 4 (Otto Becker) Queensway Big Q (Harvey Smith) (all by Gotthard) and Wiener Penny (Jurgen Kapp). The latter is a full sister of the grand dam Wiener Blut. The successful sport horse and sire Rickmer (Ritual) is also out of this bloodline.
Sir Caletto's pedigree carries internationally known Holstein blood and Thoroughbred lines (the same dam lineage as the Rhenic dressage sire Prinz Muthagen). After completion of his 100 day test and competition as a five-year-old, he was initially utilized for breeding purposes in Sweden. He was also used in the Schockemohle breeding program where he was purchased in 2002 by Silverhorne Sporthorse.
Licensing
Sir Caletto is approved for breeding by five registries: Hanoverian, ISR NA, Oldenburg (German), Swedish and NA/WPN Dutch Hunter. He himself was bred in Germany (the Hanoverian approved Holstein stallion Sandro to Hanoverian dam Calwiene) by Wolfgang Schwanke. He was then seen and purchased by Paul Schockemohle in Verden through Dr. Ulf Moller as a yearling. You may recognize Ulf Moller as the most capable dressage rider for Ullrich Kasselmann of Performance Sales International (PSI Auctions).
Sir Caletto completed his hundred-day test in Medingen in 1999 with a score of 106.63, scoring 10 for jumping ability, technique and style and a 9.17 on freejumping, 8.0 on willingness to work and 7.0 for character and temperament. He was Champion of the jumping portion of his 100 Day Test with an index of 133.37.

Sir Caletto is Hanoverian hip branded and was approved by the Verband Hannoverscher Warmblutzuchter on February 9, 2002.
Show Results
Sir Caletto, in 2000, was declared the Winner of the Young Hanoverian Jumper Championships at Dobrock, Germany (including mares, stallions and geldings) and was a Bundeschampionate Qualifier in 2000. Platina, Sir Caletto's great grand dam, is also the great grand dam of Rickmer by Ritual (a privately owned stallion) who in 1993 also won the Dobrock Championships.
U.S. Show Results

--Last-Half Reserve Champion, Regular Working Hunters, 2004 Indio Desert Circuit
--Champion, Regular Working Hunters, 2004 Indio Desert Circuit Week IV
--Mid-Circuit Reserve Champion, Regular Working Hunters, 2004 Indio Desert Circuit
--Reserve Champion, Regular Working Hunters, 2004 Indio Desert Circuit Week III
--Champion, Regular Working Hunters, 2004 Horse & Hound, Rancho Murieta, CA
--Norcal Champion, Regular Working Hunter, 2004 Horse & Hound, Rancho Murieta
--Champion, 2nd Year Green Hunters, 2004 Horse & Hound, Rancho Murieta
--Norcal Champion, 2nd Year Green Hunters, 2004 Horse & Hound, Rancho Murieta
--Champion, 1st Year Green Hunters, Pebble Beach Classic "A2" Show, May 2002
--Winner, $1,000 Magnum Hunter Challenge, 2002 Pebble Beach Classic "A2" Show
Breeding Information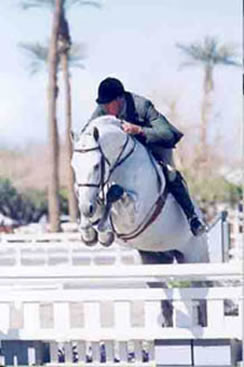 Dear Mare Owner:

Thank you for considering Sir Caletto for your mare. Please do not hesitate to let me know if you would like more information about him or his progeny in your effort to find the best possible match for your mare. We look forward to working with you during the discernment process and of course, after you have selected him. If you have made your selection, we will be happy to provide you with a contract for breeding.

Silverhorne asks you to furnish pertinent contract information including your full name, address, email and telephone so that we can produce a contract for signature. You will also need to provide the registered name of your mare and a copy of her papers, if they exist. Contracts can be faxed or emailed but information detailed above is required first.

Once you have received the contract, plan to return it signed to Silverhorne within 4 business days with your book fee or fully paid invoice in order to secure your breeding. In an effort to facilitate this process, contract terms are listed below.

Thank you,
Barb Gualco


Contract Highlights
Contracts should be signed and a book fee or full stud fee paid as soon as you have made your selection of Sir Caletto, ideally no less than 15-20 days prior to your mare being bred. This ensures your place in the breeding queue. Signed and paid contracts will take precedence.

Collection fees are $165 which cover the actual collection, lab work, semen analysis and packaging.

All delivery and shipping costs are separate and required to be paid in advance of any semen being collected or shipped. Thanks to the excellent quality of semen produced by Sir Caletto we are able to focus his collection days to three days per week, which will cover a mare with viable semen 6 days out of any week. Two (2) covers are sent in every shipment and should be used on consecutive days, not at one time.

The contract guarantees one (1) full season for your mare to be declared in foal. If your mare does not get in foal or produce a live foal that stands and nurses in one season you can simply pay an additional book fee of $500 to extend your contract for one additional season. A book fee will allow you to continue breeding.

If you are unable to use the contract in the year of purchase two options exist: 1) forfeit of the booking fee and termination of the contract or 2) pay the entire stud fee and guarantee the current year stud fee for the following breeding season.

--Collection days are Monday, Wednesday, Friday.
--Two covers are sent with each shipment for consecutive day insemination.
--Semen is ordered via fax using standardized request form one day prior.
--Shipments are overnighted via FedEx
--United Airlines Same Day shipping is availablewith good planning..
--Collections occur prior to 8:30 a.m. on shipping day so timely ordering is important.
--Semen orders will be taken from a DVM or insemination technician and filled as received.
--Visa or Mastercard must be on file

PLAN YOUR BREEDING SCHEDULE!

Some important items to keep in mind when you are breeding your mare to Sir Caletto, for the new breeder and for the experienced, a refresher.

Collections on Monday can be used for Tuesday & Wednesday breedings. Wednesday collections can be used for Thursday & Friday breedings. Friday collections can be used for Saturday & Sunday breedings. His high quality semen allows this schedule to work very well for mares who require shipped semen. This schedule leaves one day, Monday, where semen for long distance breedings will be a challenge. However most vets can overcome this challenge by contacting us in advance. Of course same day air is always on option but it typically does not arrive early enough and ends up getting used on Tuesday we have found. So ideal breeding days are Tuesday through Saturday/Sunday for the freshest semen. Sir Caletto is very fertile, with high motility rates and the semen stays viable for several days post collection. We recommend that any semen be examined under a microscope prior to insemination for a complete understanding by your veterinarian of its condition and encourage reports back to us on same.